Graufreund Weimaraners
Sh Ch Graufreund Grandeur (Harvey)
Harvey is our first home bred show champion and we are very proud of him.  He lives in Castleford with his adopted family Elaine and Steve Hunt and their other Weimaraner, Bella (Gunalt Kirsch).  Harvey has a fantastic pedigree and has consistently done well in the show ring at both championship and open shows and now has three CCs and two RCCs. A special thank-you goes to Mrs Valerie Ann Stone who awarded him his 3rd CC at Darlington Championship Show making him up to Show Champion. Our thanks also to Mr Kevin Grewcock, Mrs. Jo Hesford and all the other judges who have supported him. We appreciate all the help, advice and support given to us by everyone. He is a good, sound dog with a HIP score of 7:4, he has excellent bone structure and a very friendly disposition.

Karen and David Roberts
South Lodge
Clay Lane
Newark
NG24 2NA
Sh Ch Gunalt Goodwill ex Cavalmist Clarrisa Von Graufreund.  DoB  23/12/2004 
Harvey is available for stud with approved hip scored bitches.  Please call us for further details.
        Harvey's hip score is 7:4
Click the link on the left to see Harvey's pedigree
Darlington CH Show 2008 CC
1 Roberts' Graufreund Grandeur, this dog stood out for me because he has everything in moderation, upstanding male with a quality head, strength in his clean neck, true breed proportion, medium sized & good colour, shoulders well laid with correct topline, excellent quarters & power in those strong straight hocks, his presentation was flawless, stood out standing & on the move, powering himself around the ring with great style, keeping a lovely carriage of head & neck while retaining that strong topline, has the type & classic style of the early dogs with the improvements in construction & quality required to achieve top awards in the breed today.  Kevin Grewcock
Gundog Society of Wales CH Show 2008 RCC
1 Roberts' Graufreund Grandeure, my notes say 'a lovely dog', quality & type all through, super head, lovely expression with that true kind eye, neck flowing into well laid shoulder, well developed chest with plenty of heart & lungroom, ribs well back, correct movement with drive & purpose, in lovely condition, his day will come.  Maggie Smith
WELKS CH Show 2008 RCC 
2 Roberts' Graufreund Grandeur, quality dog I have admired from the ringside, correctly balanced with very appealing head, strong elegant neck into well placed shoulders, good bone, lovely depth of chest & well ribbed body, level topline, correct tailset, strong muscled hindquarters with developed second thigh, good tight feet, moved very well, a top quality male who has to be gone over to appreciate his correctness, very well handled to advantage. Jackie Ward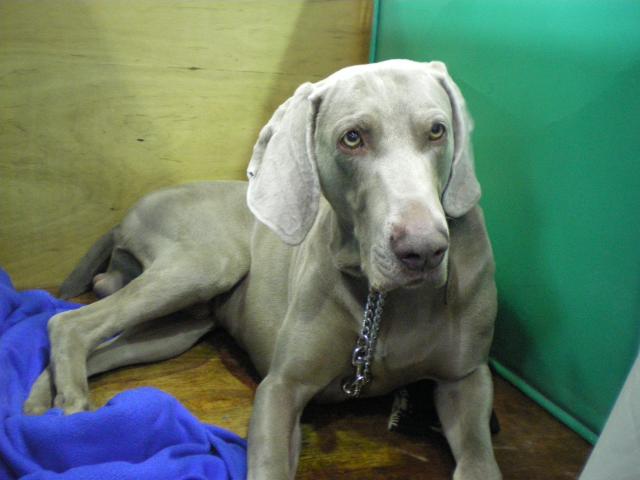 Darlington CH Show 2009 CC
1 Roberts' Graufreund Grandeur, strong class with some lovely dogs, have watched this dog mature & he looked the part, good type, moderate in all departments, typy head, excellent length of ear, moved like a dream to take the class which gave him his crown well deserved. CC.  Ann Stone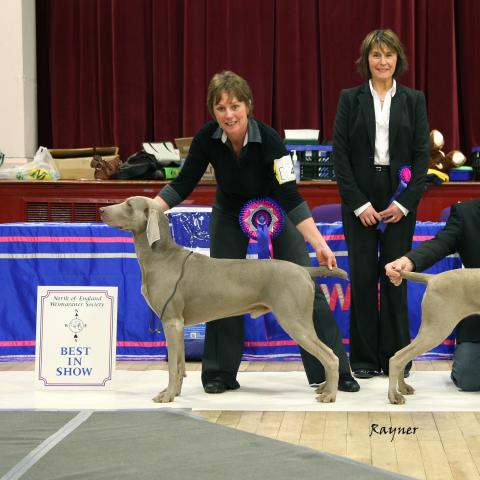 NEWS Open Show 2009 BIS
1 Roberts Graufreund Grandeur. Really liked this dog, gives the complete picture, kind eye, correct head and ear, clean neck, front and angulation, moved around the ring as thoughhe owned it. BIS.  Karen Whitehead
NEWS Championship Show 2009
1 Roberts Graufreund Grandeur. Medium sized dog that typifies the breed standard from nose to tail.  Presented in an excellent condition and well handled.  Soundest moving dog of the day and moved with grace and elegance as one with his handler.  Lovely head and expression, clean neck and a level topline.  Correct angulation front and rear, should gain his title soon.CC BOS. Jo Hesford
Midland Counties Stafford 2010
Pushing in the Open was the ultimate RCC winner, Sh Ch Graufreund Grandeur, of a slightly different shape but as sound as a pound and free from exaggeration.  RCC Andrew Brace